Introduction to Social Storms
Digital-Activist.org is an initiative by European Changemakers at Greenpeace.
The aim of the platform is to help grassroots groups and movements amplify their impact with a diversity of digital campaigns.This guide covers the social storming tool which allows groups to organise activists for a coordinated response on social media platforms - Twitter, Facebook and Instagram.
Social storming is a concept that has been used by various groups and institutions to elevate a topic or coordinate a response on social media. On Twitter, this could mean putting pressure on a Twitter account to act or simply making a hashtag trend. On Facebook and Instagram, it could be used to organise a swarm of comments on a public page or post.
This guide helps you understand various aspects of setting up a campaign and helps you build a campaign step by step for up to 3 different social media platforms at a time.
Here is an example Campaign that targets BP on Twitter, Facebook, and Instagram: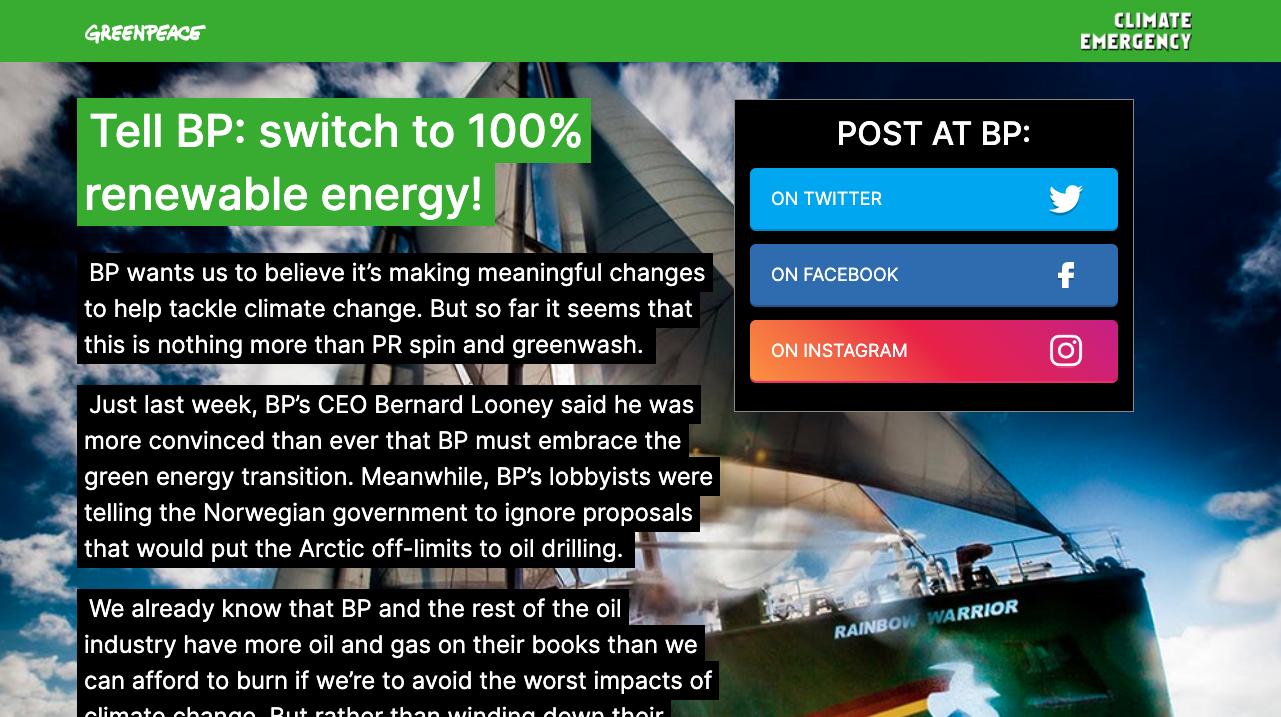 And here is the same example with just Twitter: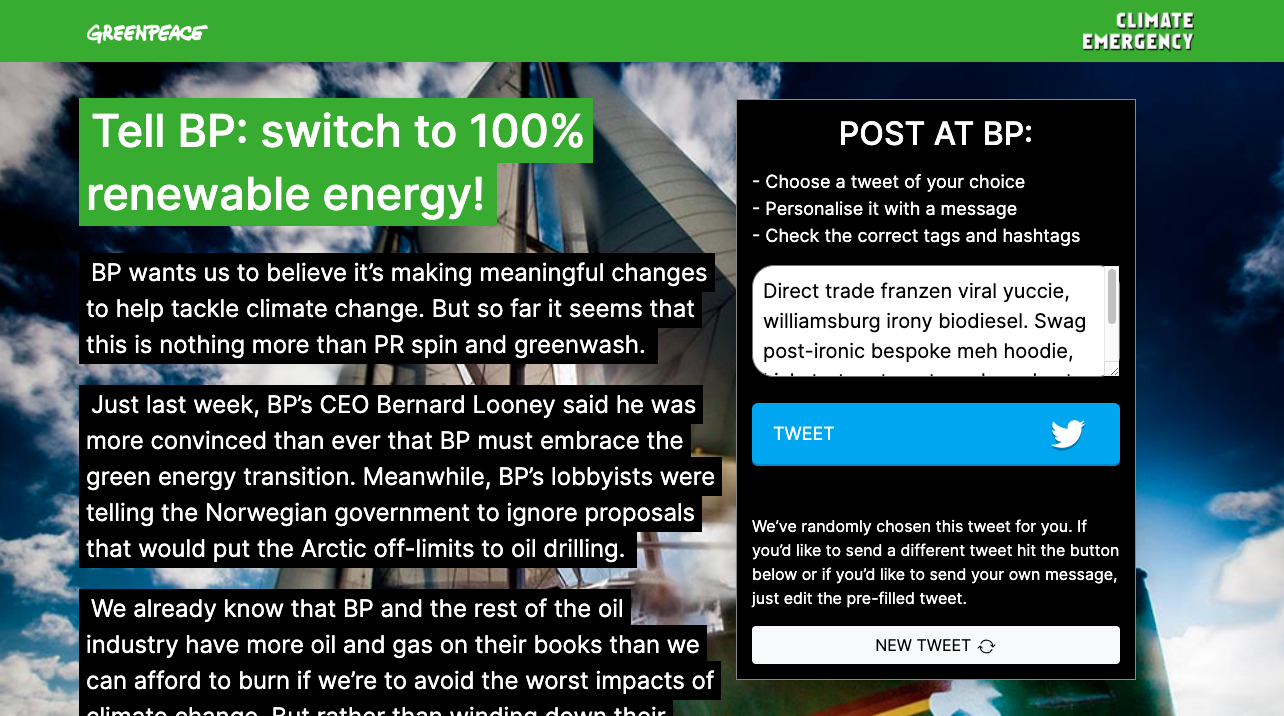 Creating a New Campaign
It's very easy to create a new Campaign - you can either duplicate an existing one, or create a new one from scratch.
To create a new one from scratch - just click the "Create New Campaign button":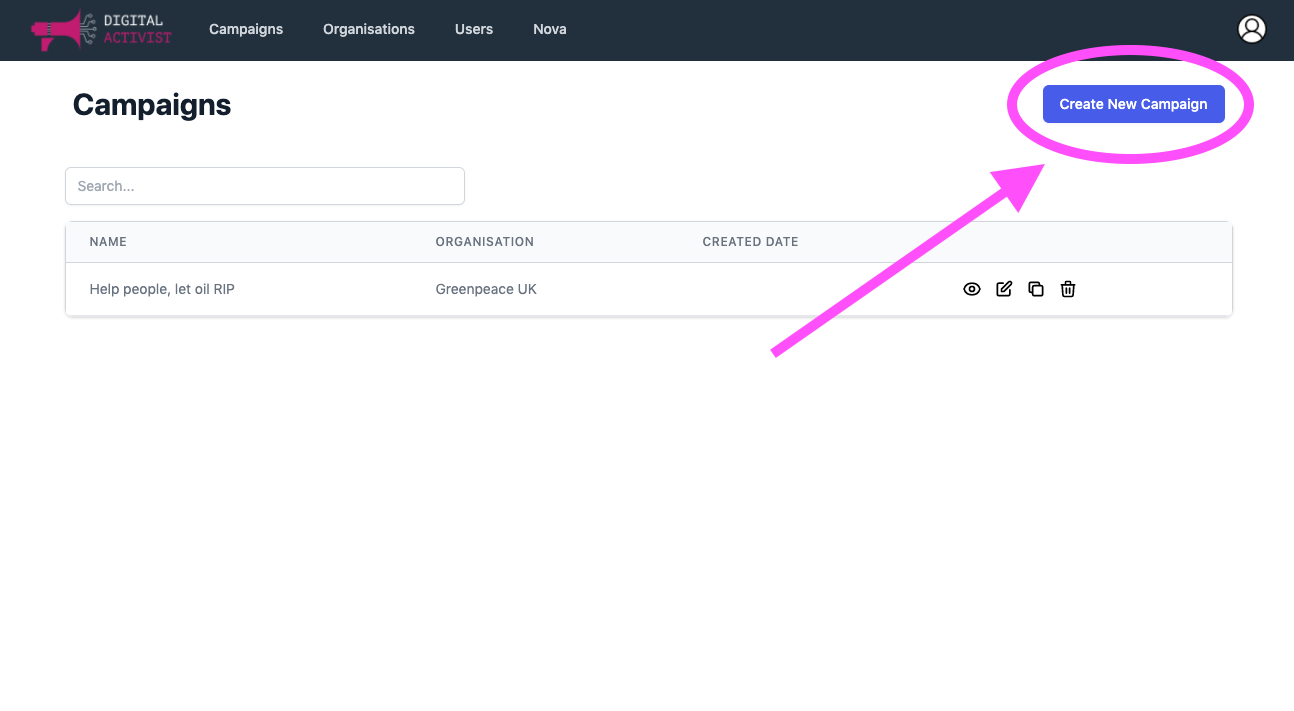 You will be asked for 3 key bits of information to get your campaign started:
Campaign Name - this is only used for internal purposes
Target Name - we will use this to create the default text for your campaign. Once you've entered this, it cannot be re-done, although you can manually go and edit the default text at any point
Organisation - some users may be part of multiple organisations, therefore you can select which organisation this campaign belongs to. Once you have selected and saved an organisation for a new campaign it can't be changed.
To duplicate an existing campaign - simply click on the "copy" icon on the main table: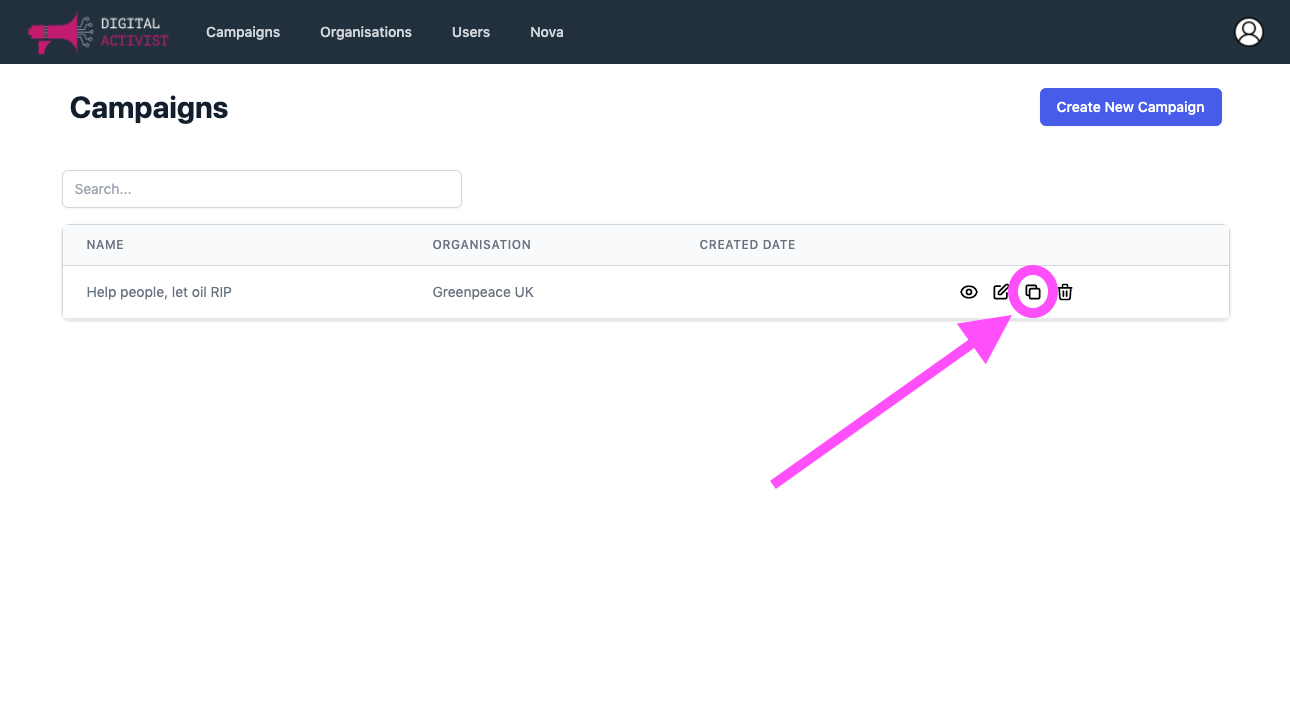 If you duplicate an existing campaign, it will take the "Campaign Name", "Target Name" and "Organisation" from the campaign you have copied.
General tab
This where you can edit the general settings of your campaign:
Published - decides whether your campaign can be viewed by the public or not. You can still look at pages that haven't been published by adding "?preview=true" to the end of the URL. The "preview" links do this for you automatically
Name - this is only for internal use so you can find your campaign easily
URL Slug - this is the link that your supporters will use to access the page - we recommend customising it with words so that it's meaningful. Warning: if you change this after you've already given out the link, then people will no longer be able to reach it.
Design tab
This is where you can customise the appearance of your Campaign.
It automatically uses the default settings from your Organisation, which will have been agreed when you were set up.
You are free to change any of the settings and it will only affect this Campaign:
Main Logo (1)
Secondary Logo (2) [optional]
Browser Icon (3)
Header Colour (4)
Background Img (5)
Button Colour (6)
Campaign Text - Background Colour (7)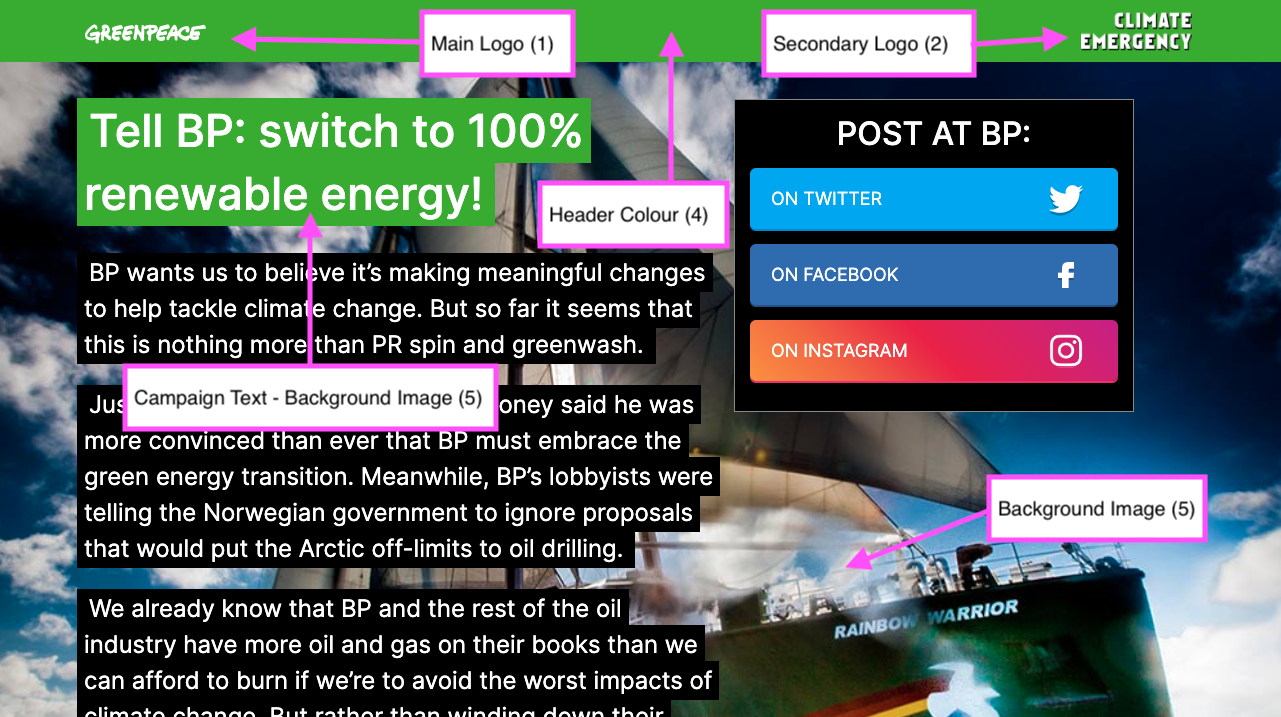 Campaign Text tab
This is where you edit the text which the supporter sees when they first land on the page:
Campaign Title (1)
Campaign Content / Text (2)
Ask Title / Text (3)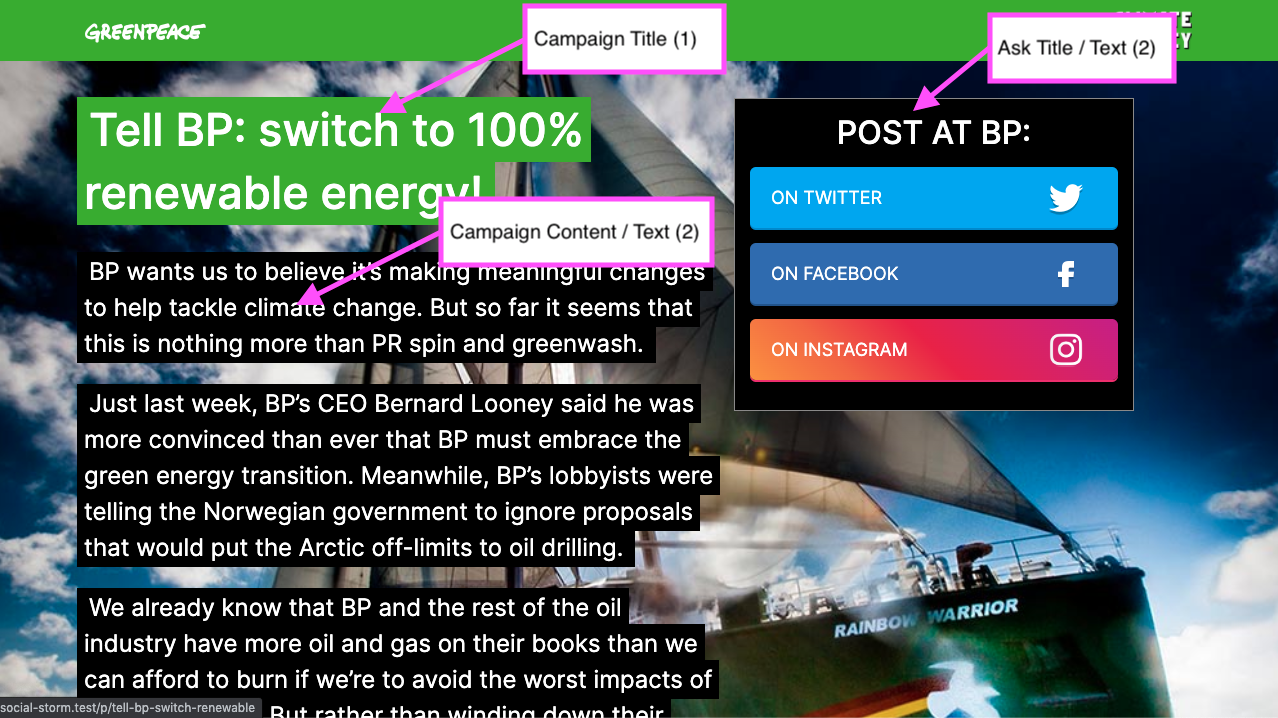 Social Storm tab
You can select which social media you want to enable by toggling them on / off on the different tabs - you can have any combination of the 3 social media.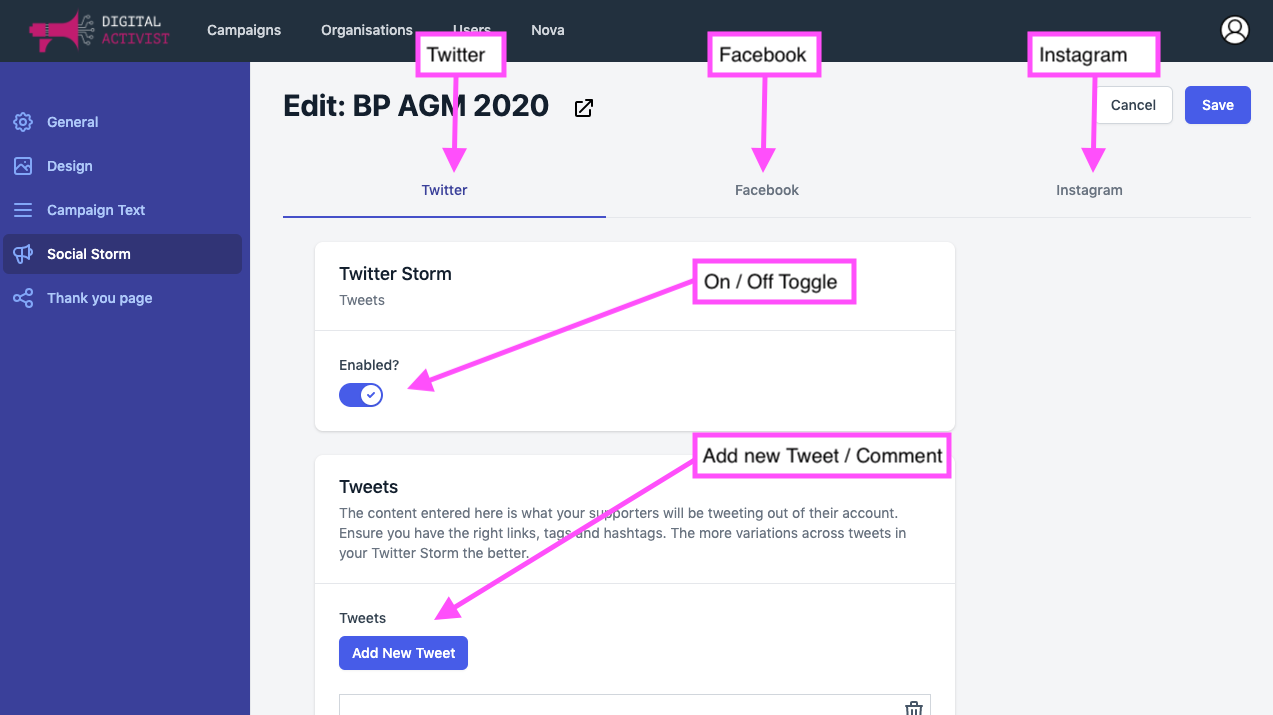 For each social media you can also edit the pre-filled tweets / comments that supporters can choose between - simply click "Add new tweet / comment" and change the text.
There is also "Default text" which instructs the supporter on how to use the tool - you can leave the default or you can customise. For more information see the "Changing Default text" section.
Thank you page tab
Once the supporter has completed the ask, they will be taken to a Thank you page. You can use this page to encourage your supporters to share the Campaign with their friends and family:
Thank you page Title (1)
Thank you page Text (2)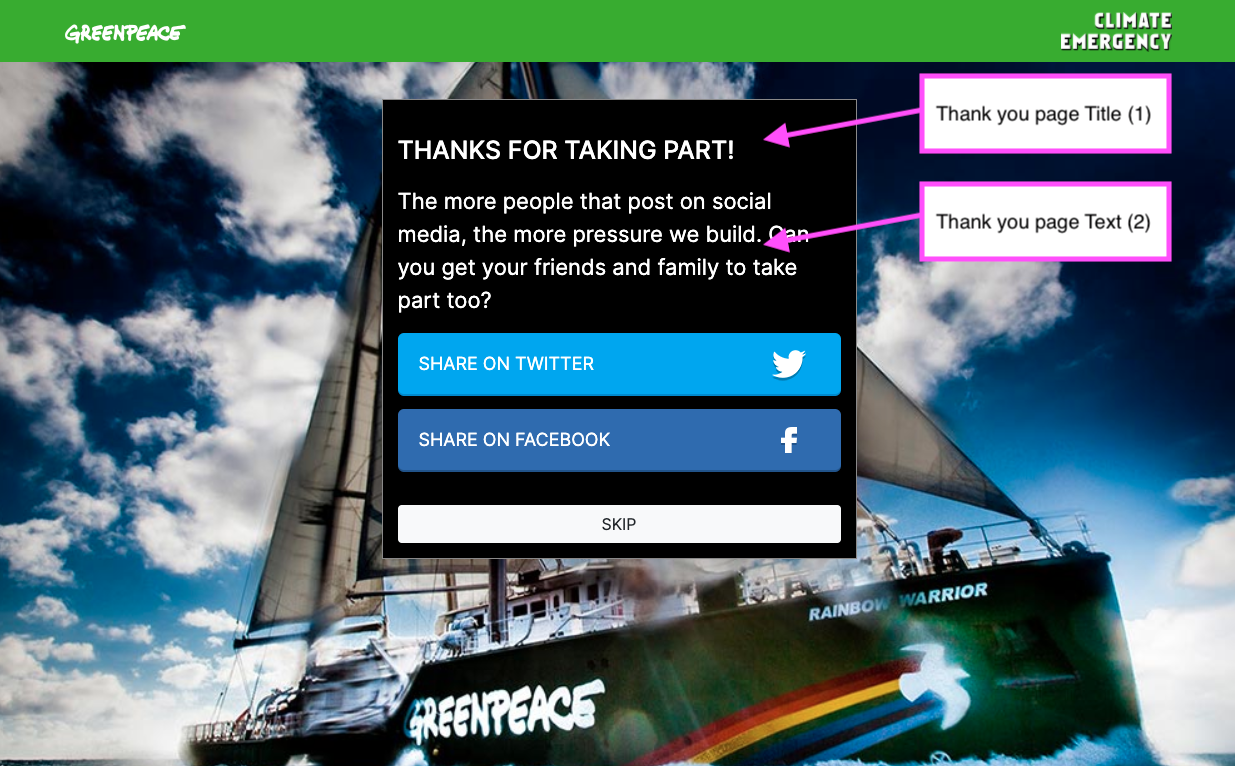 You can also customise how what your Campaign looks like when it's shared on social media:
Title (1)
Description (2)
Image (3)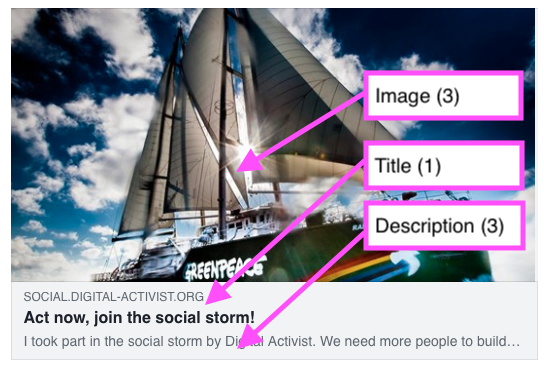 To help encourage your supporters to share your Campaign, you can enable share buttons:
Facebook
Twitter
WhatsApp [only shows on mobile devices]
Email